We Are The Champions
A Kind Of Magic
Under Pressure
Seven Seas Of Rhye
Another One Bites The Dust
I Want To Break Free
Hello Mary Lou
Tutti Frutti
Bohemian Rhapsody
Crazy Little Thing Called Love
Tie Your Mother Down
Hammer To Fall
Now I'm Here
Is This The World We Created....?
Who Wants To Live Forever
Love Of My Life

Back to bootleg page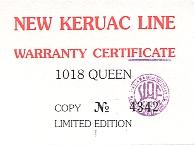 I have read information that 2000 numbered copies of this bootleg cd-box was made in 1992.
I have number 0359 and 4342. I'm not sure, but there might be a re-release of this box after the year of 2000. Anyway, the box and cd are identical to each other.

Back