Label:
Original Queen Archives Q 005
Country:
Japan
Released:
September 2004
Recorded:
Golders Green Hippodrome, London September 13th. 1973, + 2 mo re.
Sound:
Excellent stereo soundboard recording. BBC FM broadcast.
Comments:
Great bootleg cd. For first time we can hear the full Rock'n Roll medley.
The bonus tracks, "Doin' Alright" is listed as alternative version. I can't confirm this, but, piano opening is longer than on original album. "Ogre Battle" listed as live rehearsals. Might be thru.
This cd is the FIRST time the complete 'Golders Green' 1973 are released. The sound is a bit low on the vocals from beginning, to the medley begin.
Roots:
Not sure. Might be from a re-broadcast, or from a collectors collection. NOT from any other boots.
Time: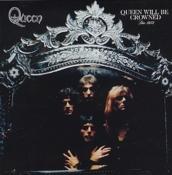 Front cover
Alan Black Intruduction
Intro: Procession

(tape)


Father To Son
Son And Daughter
See What A Fool I've Been
Ogre Battle
Band Introduction
Liar
Medley: Jailhouse Rock
Stupid Cupid
Be Bop A Lula
Jailhouse Rock

(reprise

)
Big Spender
Bama Lama Bama Lou
(Golders Green Hippodrome, London Sept. 13th. 1973)
------------------------------------------
Doin' Alright (alternative version)
Ogre Battle (live rehearsals or sound check 1973)
Review by Collectors music reviews
The Golders Green Hippodrome broadcast is the most well known and widely circulated early Queen show in the collecting community. This new release on Digital Queen Archives is the third in the past two years and fourth since 1998 (Master of Sheetkickers, First Procession on Gypsy Eye and Complete BBC on Digital Queen Archives). Six songs have circulated: "Procession", "Father To Son", "Son & Daughter", "Ogre Battle", "See What A Fool I've Been", and "Liar". There was no consensus on the proper order of the show either. In the spring of 2002 the rock and roll medley ("Jailhouse Rock/Stupid Cupid/Be Bop A Lulu") surfaced (and Gypsy Eye missed the opportunity to release it on their autumn 2002 release First Procession). All that remained in the BBC vaults was the "Big Spender/Bama Lama Bama Lou" encore.
When Queen Will Be Crowned was announced last month it promised the complete and uncut broadcast for the very first time, even the final encore still sitting in the BBC vaults. The verdict: Digital Queen Archives have delivered in a BIG way. This makes all previous copies obsolete and might be the release of the year for Queen fans. Not only is the set list complete, but all of the commentary is complete too. Present is the initial comments about "Keep Yourself Alive" not being played this evening. Before "Son & Daughter" the announcer speaks about Brian May's special guitar.
Queen's upcoming tour is discussed before "See What A Fool I've Been" (the track is also restored to it's proper position), and Queen's concert presentation is mentioned before "Ogre Battle". The brand new material "Big Spender/Bama" features heavy echo on Freddie's vocals.
The bonus tracks feature an alternate version of "Doing Alright" which sounds like the officially released version but with the guitars mixed a bit higher.
It looks like something DQA left off In The Beginnings. Nothing much is gained with this. The live rehearsal of "Ogre Battle" really sounds like a poor broadcast of the Queen II track and nothing more. I don't recall them ever singing in harmony live. This release is all about the BBC broadcast and this is a superlative release. One point is deducted because the vocals are still mixed a bit lower than desirable. That is an issue with how it was initially recorded and nothing can do about that. The overall sound is much better than all previous releases too: better stereo separation, more crisp and enjoyable. (GS)

Back to bootleg page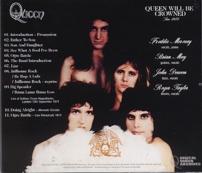 Back cover