See What A Fool I've Been
Keep Yourself Alive
Liar
Son And Daughter
(Langham 1 studio London, July 25th. 1973)

Spread Your Wings
It's Late
My Melancholy Blues
We Will Rock You (slow & fast)
(Maida Vale 4 studio London, October 16th. 1977)

Earth
Step On Me
(SMILE pre-Queen group feat. Brian & Roger. 1969 US single)

Bohemian Rhapsody
Radio Ga Ga
Hammer To Fall
Crazy Little Thing Called Love
We Will Rock You
We Are The Champions
Is This The World We Created..?
(Wembley Stadium, July 13th. 1985).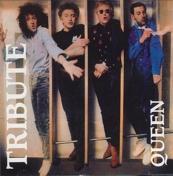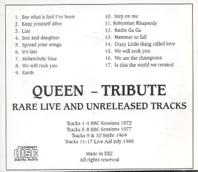 Another cover version, SAME disc & company. Just another cover.

Back cover


Disc
Same disc on
both cover versions