Label:
Milestone Records MS 1001
Country:
Italy
Released:
1995
Recorded:
Pre- Queen tracks. "Larry Lurex" 1973, & "Smile" 1969.
Sound:
Excellent studio recordings.
Cover:
Black & white cover.
Comments:
Well known track out on a 10 Inch picture disc. The Queen track 'Mad The Swine', is a early track which first time end up on the b- side of 'Headlong' single from '91. The "Larry Lurex" track comes from a single. "Smile" tracks are taken from the Japanese (only) mini LP from 1982.
Re-released in 2000 on color picture disc, and 12 Inch format. At the same time, also released on black vinyl with color cover. This version is listed under this in the index. Also short info listed in end of this page.
Roots:
Originally from officially released records.
CD released:
To much to mention, but there is a CD with same name & tracks.

Front cover
SIDE A
Goin' Back (Larry Lurrex, b-side)
Polar Bear (Smile)
Mad The Swine (Queen, early track, b-side)
April Lady (Smile)

SIDE B
I Can Hear Music (Larry Lurex, a-side)
Earth (Smile)
Step On Me (Smile)
Blag (Smile)

You can (at least) find the following release of this album.
In Nuch 10 Inch picture disc. 1995 Milestone records MS 1001 (This one, listed over)
In Nuch CD version 1995 Milestone records CD/MS 1001
In Nuch CD version with book, t-shirt & postcard. CD/MS 1001 1995 (nothing special really...)
In Nuch LP (12 Inch) 'new' color picture disc. MS 1001 2000 Different picture disc.
In Nuch LP black vinyl version. 2000 LP/MS 1001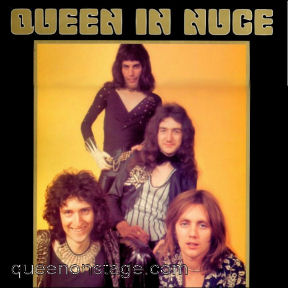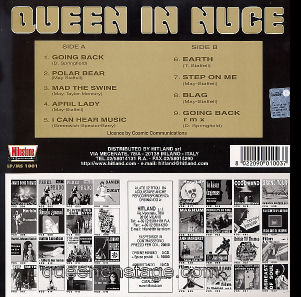 LP version

Back to bootleg vinyl page

Back cover