Medley: In The Lap Of The Gods
Killer Queen
The March Of The Black Queen
Bring Back That Leroy Brown
Stone Cold Crazy
Liar
(Santa Monica, Los Angeles USA March 29th. 1975)
-------------------------------------
Intro: Bohemian Rhapsody (mid~ end part)
Flick Of The Wrist
Hangman
Brighton Rock
Seven Seas Of Rhye (March 31st., only this tracks)
Father To Son
Lazing On A Sunday Afternoon
Keep yourself Alive
Now I'm Here
See What A Fool I've Been
(Bodokan Hell, Tokyo Japan March 31st. & April 1st. 1976)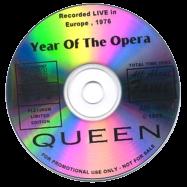 Promo disc, available separately, with no jewel case or cover.