Disk 1
Intro: Flash's Theme (tape)
The Hero
Tie Your Mother Down
Action This Day
Play The Game
Somebody To Love
Staying Power
Get Down Make Love
We Will Rock You (improvised)
Fat Bottomed Girls
Love Of My Life
Save Me
Keyboard & Guitar Solo


Disk 2
Liar
Not Fade Away
Crazy Little Thing Called Love
Bohemian Rhapsody
Under Pressure
Now I'm Here
Dragon Attack
Now I'm Here (reprise)
Another One Bites The Dust
Sheer Heart Attack
We Will Rock You
We Are The Champions
God Save The Queen...


NOTE: There is a 'pirate' cdr made out in South America, using same cover (re-printed), but different printed cdr disc.
Cover is a 'clone' copy. And like the original boot, it's an offset printed cover.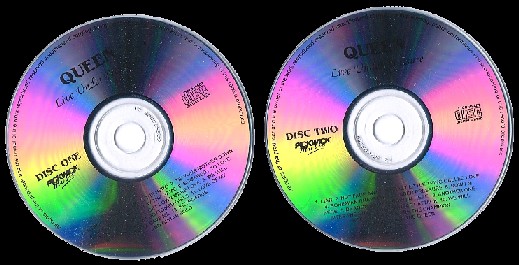 South American 'pirate' of the "Breakdown" release.

Back to cdr page

Back cover