Label:
Wardour 307
Country:
Japan
Released:
December 2018. I have received info it was re-pressured in January 2019 due to huge sales. Some dealer say's only

ONE per costumer

.
Recorded:
Hammersmith Odeon, London, England December 26th. 1979.
Sound:
Excellent audience recording from this concert at Hammersmith on Dec. 26th. 1979.

Comments:
I'm not sure if this is a new tape source, but anyway it looks like a nice release with correct photo on the cover.
I will say this is the ultimate Hammersmith 1979 bootleg.
Some 'sticker' copies comes with a separate dvd with film from the concert. Not complete, but all what so far has seen daylight on the bootleg marked.
The hole concert was filmed, but so far this concert has not been officially released.
A one hour 'Queen Special' has been on television worldwide with live tracks from this concert, and a raw copy of more tracks has been shown on early Queen conventions. But as I write above, nothing officially released so far.
I'm not sure of reason, but sometimes it has to do with rights and ownership of the film. It might be other companies who pay the film work, and then own the film.
That company has no right to release anything, but they own the filmed material, EMI who had Queen in their stall at that time, is probably involved to. A lot of companies involved. So there you have it...... Sometimes things are complicated.

This concert was a part of the 'Concert For The People of Kampuchea' project.
Queen did a full concert on this first evening. Other artist which was involved, play the next days. A four days charity production from 26th - 29th. December.
A 2lp was released officially on March 30th. 1981, but Queen was only given one track on that release 'Now I'm Here'. You can get info of that 2lp HERE.
This concert has been released on bootlegs before by various labels.
- Crazy Tour 2lp (released 1980), and later years on 2cd with same looks.
- Complete Kampuchea Concert 2cd (released 2000) Gypsy Eye label.
- The Queen Special 1cdr & 1dvdr (released Dec. 2018)
+ others but...
Roots:
From audience recorded tape.
Time:
62:08 / 51:20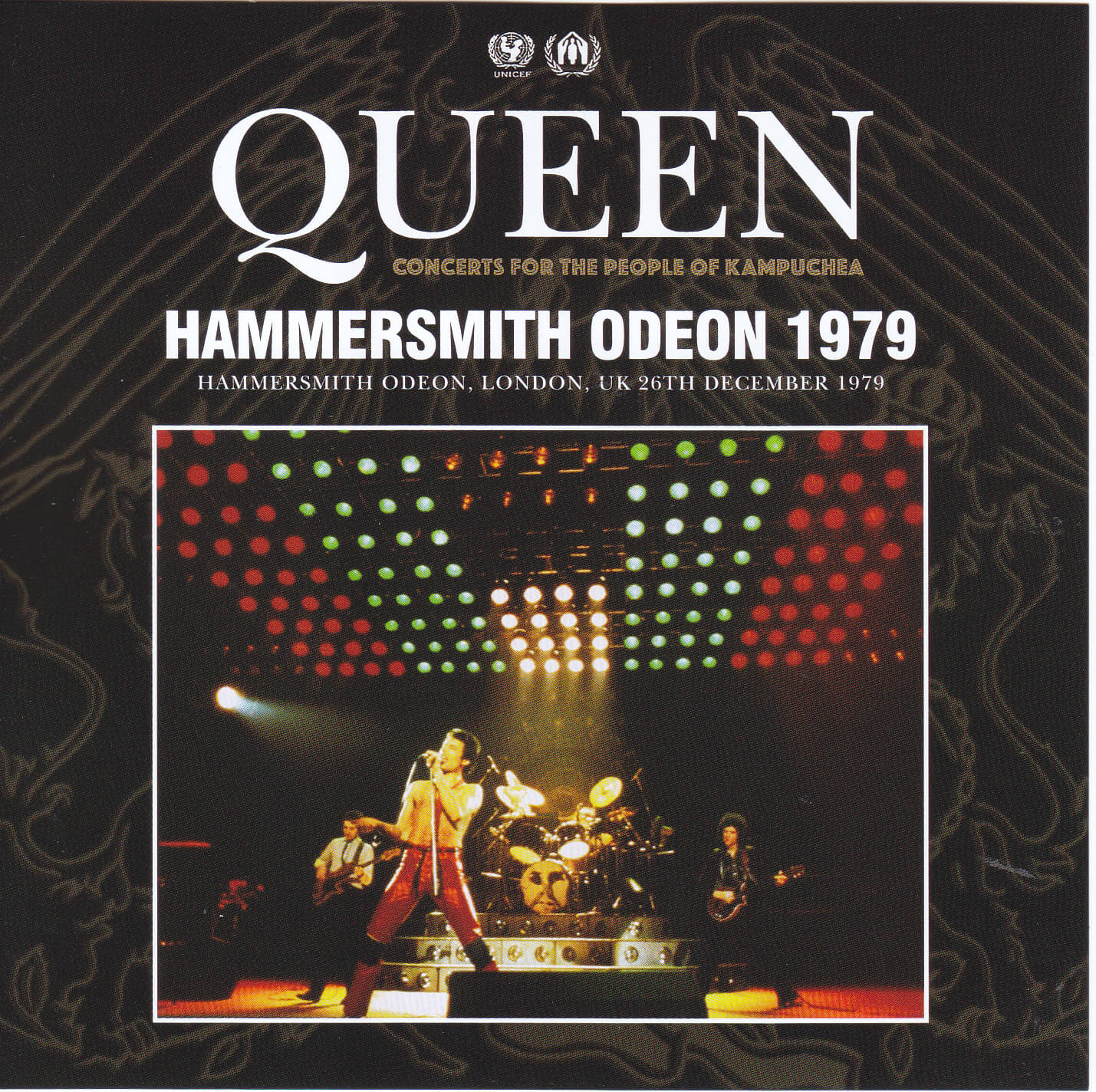 Front cover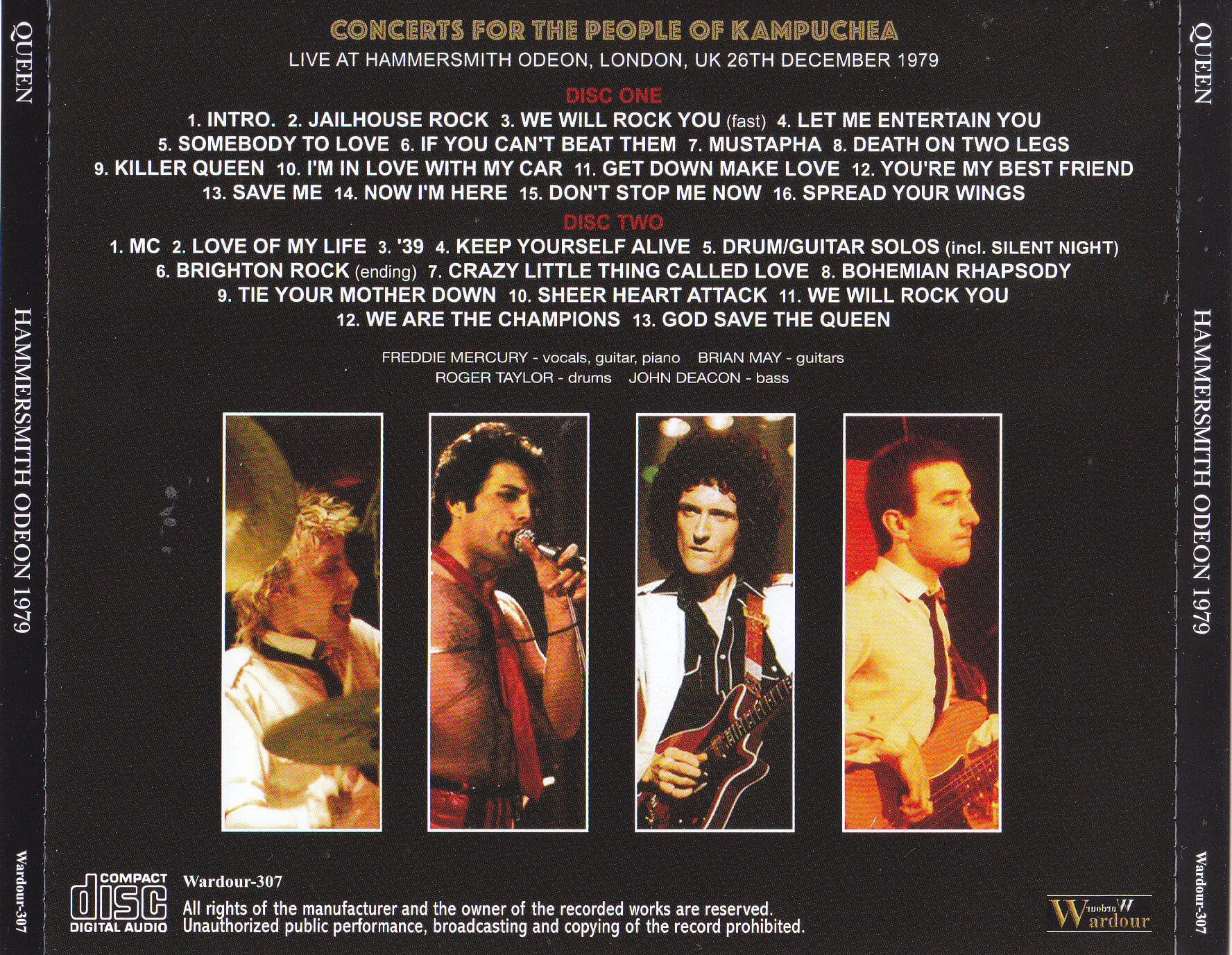 Back cover





DISC 1
1. Intro ('Thunder & Lighting)
2. Jailhouse Rock
3. We Will Rock You

(fast)


4. Let Me Entertain You
5. Somebody To Love
6. If You Can't Beat Them
7. Mustapha
8. Death On Two Legs
9. Killer Queen
10. I'm In Love With My Car
11. Get Down Make Love
12. You're My Best Friend
13. Save Me
14. Now I'm Here
15. Don't Stop Me Now
16. Spread Your Wings


DISC 2
1. Brian MC
2. Love Of My Life
3. '39
4. Keep Yourself Alive
5. Drum ~ Guitar Solos incl. Silent Night
6. Brighton Rock

(ending)


7. Crazy Little Thing Called Love
8. Bohemian Rhapsody
9. Tie Your Mother Down
10. Sheer Heart Attack
11. We Will Rock You
12. We Are The Champions
13. God Save The Queen






Back to bootleg CD page Back to MAIN PAGE

The separate DVDR comes with the limited edition 'stickered' 2cd version above.
1. Jailhouse Rock 2. We Will Rock You (fast) 3. Let Me Entertain You 4. Somebody To Love 5. Death On Two Legs 6. Killer Queen 7. I'm In Love With My Car 8. Get Down, Make Love 9. You're My Best Friend 10. Save Me 11. Now I'm Here 12. Don't Stop Me Now 13. Love Of My Life 14. '39 15. Crazy Little Thing Called Love 16. Tie Your Mother Down 17. Sheer Heart Attack 18. We Will Rock You 19. We Are The Champions 20. God Save The Queen
PRO-SHOT COLOUR NTSC Approx.74min


R
eview from the net.
Received the Press 2CD which recorded the London performance of December 26, 1979 famous for the Cambodia relief charity concert "CONCERT FOR KAMPUCHEA" by the call of Paul McCartney with the highest audience recording of the highest ever!
"HAMMERSMITH ODEON 1979: THE VIDEO" 8 DVDVD) which was recorded for the first time arrival only with a numbering-in sticker with a professional shot covering the same performance for 74 minutes will be attached specially.

Queen / Hammersmith Odeon 1979 / 2CD – GiGinJapan The legendary recording of 1979 left by prestigious Kinney brushes up with a new master. It is a permanent preservation press appeared in 2CD. That legendary recording is "London performance on December 26, 1979". Although it is famous also for images such as short television broadcasting and leakage pro shots on this day, this album is a live album that completely records the entire story of the show. It is a superb audience recording recorded at the traditional name hall "Hammer Smith · Odeon". The biggest point is in the upgraded sound, but first of all the show position. Speaking of 1979, "JAZZ TOUR" became "LIVE KILLERS", but this work is somewhat different "CRAZY TOUR". Let's look back from the schedule at the time to organize the situation.

● 1978 "JAZZ TOUR" · October 28 – December 20: North America (35 performances)
● 1979 · January 17 – March 1: Europe (28 performances)
· April 13 – May 6: Japan (15 shows) "June" THE GAME "Production Start"
"June 22" LIVE KILLERS "released"
· August 18: SAARBRUCKEN OPEN AIR appearance
"October 5 singles" Crazy Little Thing … "released"
"CRAZY TOUR" · November 22 – December 26: Britain (20 performances)

This is the flow after "JAZZ". "LIVE KILLERS" was produced from the "European" tour, but began producing the next work "THE GAME" before and after its release. In October we released the first single "Crazy Little Thing Called Love", and it was "CRAZY TOUR" that we did in England in my home country. In "JAZZ TOUR", there was no UK tour, and the schedule was entered with the power of 20 performances. Even on such an UK tour, Hammersmith 's performance of this work is highlight. Not only on the last day but also a part of the Cambodia Relief Charity Concert "CONCERT FOR KAMPUCHEA" by Paul McCartney's call. It was also its first day.

Such a show was filmed in Proshot, partly television broadcasting. After that, the outflow Pro shot was excavated and it became a symbol of 1979. However, such video editing is incomplete. In contrast, this work is a live album that you can enjoy full show. Moreover, the quality is superb. In any case, that "Kinney" that made this work a thing. Although it is a prestigious prestige who can say even synonymously with the boot history of the Japanese performance, in reality many overseas recordings are also left. This work is also a recording of the inscription recorded by the staff of Kinney who passed away. This recording itself has been known for a long time and has been used as a masterpiece representative of 1979, but this work is further upgraded New master. Although it is unknown whether it is an Omoto master, it is far more refreshing than before and fresh. Although the stereo feeling of "Jailhouse Rock" which had already been disturbed in the past was also well prepared, the vividness that the more it goes over the full story. The shining clearness also makes me feel tight, as if the recording position approached quite a while ago about 2-3 rows. If you already know the origin, you know that it was originally on recording, but New Master will further close to QUEEN. After experiencing this work, I will not be able to listen to the already outburst already so wonderful. Moreover, this work further remastered such new master. This recording started slightly overpeaking and it is also known to gradually improve, but this work relaxes it easier to hear that over feeling. Of course, the pitch which was already mad at the previous departure was prepared precisely, and it finished to the ultimate form suitable for the highest peak master. A full show that you can experience with such a superb sound … … amazing. It's too amazing. Although it is also known as pro shot image as mentioned above, there is a plenty full version of famous songs that were cut there. A moment to enumerate …… about 12 minutes including "If You Can not Beat Them" "Mustapha" "Spread Your Wings" "Keep Yourself Alive" "Bohemian Rhapsody", "Silent Night" and "Brighton Rock" Also full of guitar & drum solos. The show conforms to "LIVE KILLERS", but there are also new songs "Save Me" and "Crazy Little Thing Called Love" of the next work "THE GAME" that I could not listen to there.

Especially "Crazy Little Thing Called Love" is wonderful. Although this song was also an image, actually Singa Long did not stop ringing even after the performance was finished, but I was forced to reply to QUEEN. They respond to the puzzling taste, entering "Bohemian Rhapsody" as soon as saying "I'm sorry (laugh)" …. "Crazy Little Thing Called Love" became a big hit marking the second place in Britain as the latest single, but its real time feeling is wonderful. Also included are songs between songs and MCs that were tricky in the video. Although how pro shots are left, the feeling of experiences of the performance is not comparable either.

A great masterpiece of extreme condition and extreme tension bursting out. It is a superb live album that caught that full show with the best sound of Kiny Magic's full opening. Historic masterpiece whose traditional masterpiece was upgraded with the new master. Please, please enjoy at anytime with the permanent preservation press 2CD forever.

★ Keene tape. Awesome sound quality. To the existing departure, distance feeling shrinks and it is getting better with the difference of muddy.

With stickers.
★ Only the first 420 sheets will be
released with a numbering sticker.
But here is something weird.
My friend Riccardo send me information that his sticker version tells 463, so looks like there has been some 'fake' informations.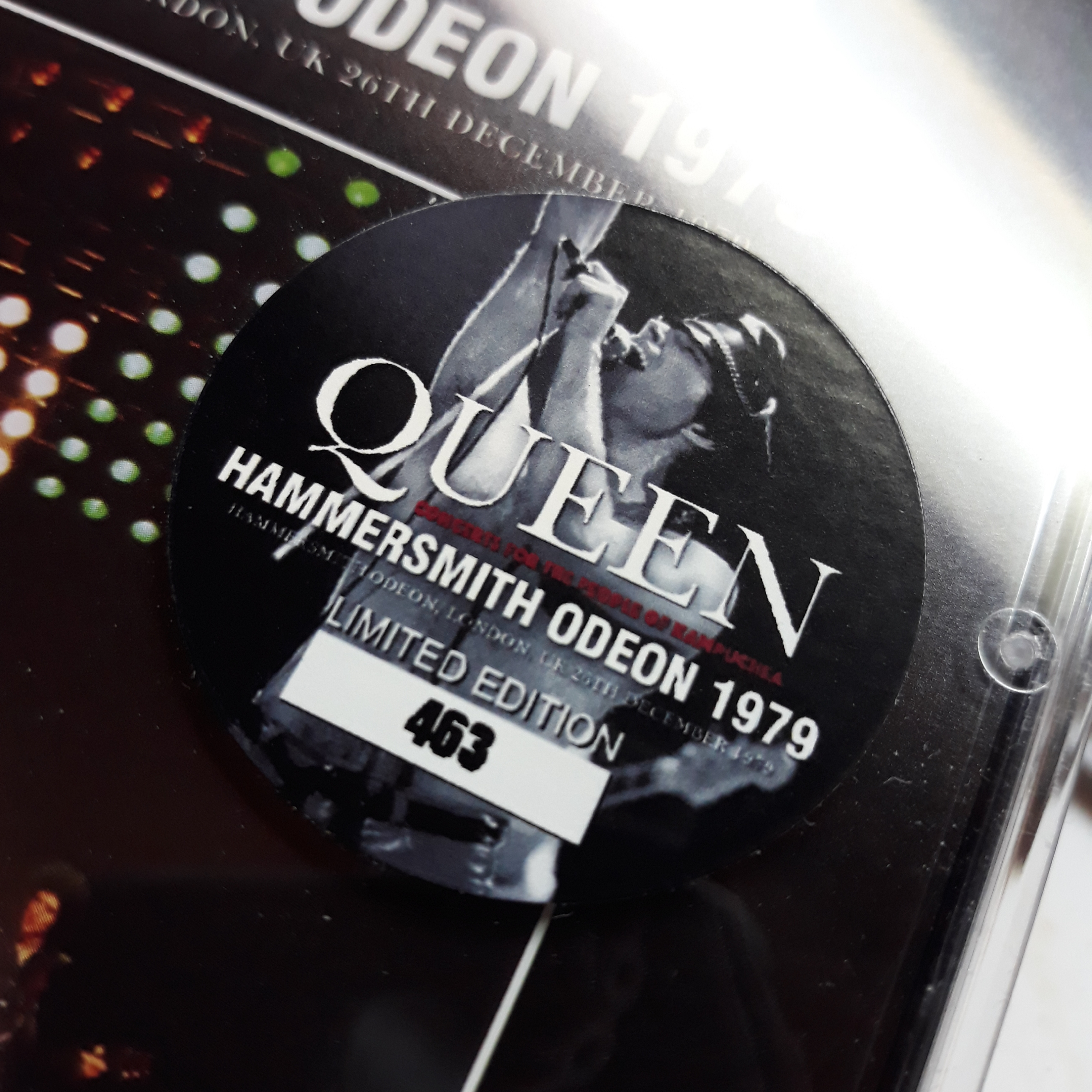 -------------------------------------

A separate

DVDR

enclosed with Numbered Stickered Edition Only
★ Only with the sticker with the first number "HAMMERSMITH ODEON 1979: THE VIDEO" will be attached specially.