Label:
WRMB 307
Country:
USA
Released:
1975 (might be in 1976)
Recorded:
Civic Auditorium, Santa Monica USA March 29th. 1975.
Sound:
Very good stereo audience recording.
Cover:
2 color insert.
Comments:
Original vinyl bootleg from a great US show. I wish we could get a complete officially releasing, of this concert in the near future.
This is one of the better US performance in the early times. Queen did 2 show this date at Civic Auditorium. I'm not sure from which one this album are from. It might be a mix between both ??
A bit difficult to get this vinyl bootleg these days.
NOTE: TAKRL label re-released ('pirate') this bootleg with same name, but with a bit different insert. Scan on those TAKRL ones, are under track list.
Roots:
Original vinyl bootleg.


Insert
Flick Of The Wrist
Medley: In The Lap Of The Gods
Killer Queen
The March Of The Black Queen
Bring Back That Leroy Brown
Son And Daughter



Keep Yourself Alive
Stone Cold Crazy
Liar
Medley: Big Spender
Modern Times Rock'n Roll
Jailhouse Rock
Be Bob A Lula
Jailhouse Rock (ending)

TAKRL label re-released this bootleg a bit later. Rather a 'pirate' copy.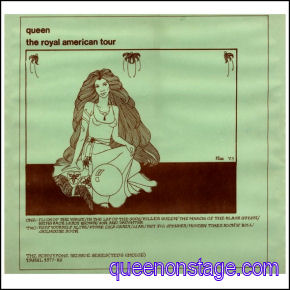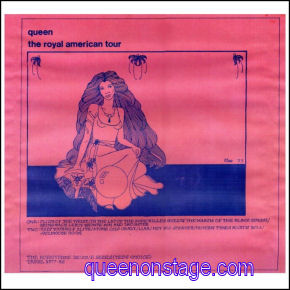 Back to bootleg vinyl

White cover with titles stamped on cover
I have this version, but haven't any info.