Label:
TAKRL 1997 (The Amazing Kornyform Record Label)
Country:
USA
Released:
1976 + re-released true the years.
Recorded:
Hammersmith Odeon, London December 24th. 1975.
Sound:
Excellent stereo soundboard recording. BBC 'In concert'.
Cover:
Insert sleeve, various color used. I have a duo-toned sleeve which I've been told is original 1st. pressing. There are many re-pressing of this LP, using same insert, but with various color insert. Label are original neutral, but some re-releasing has 'World Record', 'Spindizzle' etc...labels, + neutral ones.
Comments:
One of the earliest Queen bootleg, who came out on the marked. Might be the second Queen bootleg out. Not sure. Has now become a legendary bootleg. NOT complete show.
As mention, many re-releasing of this concert has been made out on vinyl and cd later.
Probably the most bootlegged Queen concert all time.
Also now out on DVD bootleg. BBC filmed the concert. (Missing encore II).
This show is the most bootlegged Queen show ever. Out on vinyl & cd's in large quanties.
As well on DVD bootlegs. But this vinyl disc was the first release of the show. Incomplete but anyway...
Some missing track found the way out on 'Rogues And Scandals' 1LP.
On November 20th. 2015, Queen production released officially QUEEN A NIGHT AT THE ODEON on 2lp, cd, DVD (Blu-ray) etc... box set, so you now can forget all the bootlegs, and buy the officially album, which has the full show in suberb sound quality, as well on DVD. (The 2nd. encore wasn't filmed so it's missed, but anyway it's on audio, so... GET IT !
Roots:
BBC 'In Concert' radio FM broadcast.
On CD:
The most booted Queen concert. Many vinyl & cd version released. Also on DVD boot.

Original insert
duo-toned





Now I'm Here (incomplete)
Ogre Battle
Medley: Bohemian Rhapsody
Killer Queen
The March Of The Black Queen
Bohemian Rhapsody (part II)
Brighton Rock
Son And Daughter (end part)

Keep Yourself Alive
Liar
In The Lap Of The Gods.....revisited
Seven Seas Of Rhye
See What A Fool I've Been
God Save The Queen.......




On November 20th. 2015, Queen Pruduction released officially this show on 2lp, cd & DVD as well on Blu-ray. A box set was also released including book etc., and a 12 inch vinyl single with a soundcheck of 'Now I'm Here'.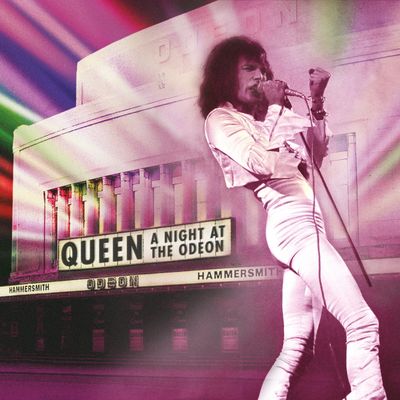 The cover of the 2015 officially released 2lp with the full show included.

Back to bootleg vinyl page



Diff. color insert