Label:
TFKRL 9102
Country:
Belgium
Released:
1991
Recorded:
Mayfair, Newcastle England November 22nd., 1973. (Might be fake).
Side 2: Demos of the cult-band "Marillion".
Sound:
Good audience recording.
Cover:
Color front & back insert. White neutral labels.
Comments:
Limited edition of 313 numbered copies. First 39 numbered copies with jigsaw cover, showing the front cover.
A few copies on RED vinyls.
Roots:
Original bootleg, not copied/taken from other boots.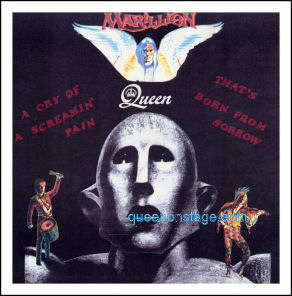 Front insert