Label:
SLA OOO1 (Rodan Records)
Country:
USA
Released:
1979
Recorded:
Nichidai Kodo, Tokyo Japan, April 4th. 1976.
Sound:
Good audience recording.
Cover:
Wrap-around 2-colored insert. Various color on insert exist.
Comments:
Re-release of a re-release, or we might can call this a pirate bootleg. Sound is a bit lousier than original.
Re-released in 1981 with different deluxe color cover.
Roots:
This is taken from "Crowning Glory" (1LP), which also is a pirate of "Lazing On A Sunday Afternoon" (MARC).


Front cover
Intro: Intro. tape of Kenny Evert
Bohemian Rhapsody (mid~end part)
Ogre Battle
Sweet Lady
White Queen
Medley: Bohemian Rhapsody
Killer Queen
The March Of The Black Queen
Bohemian Rhapsody (part II)
Bring Back That Leroy

The Prophet's Song
Stone Cold Crazy
Lazing On A Sunday Afternoon
Liar
In The Lap Of The Gods....revisited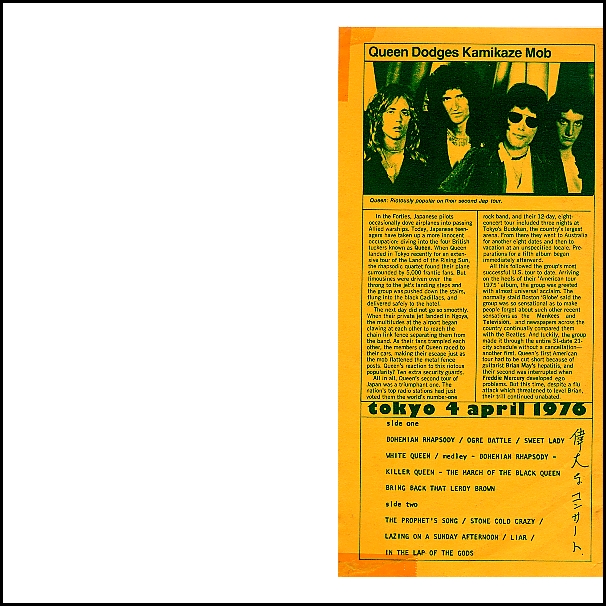 Various color on insert are around, as most of the US bootlegs are.

VERSIONS of 'GEISHA BOYS' 1lp
1. Original US insert version. Listed on this page.
2. European re-release with deluxe cover, different look, but same title.

Back to bootleg vinyl page


Back cover