Label:
-unsure-
Country:
Europe.
Released:
September 2022. The end days of the month.
Recorded:
Live at Estadio Jose Amalfitani Stadium, Buenos Aires, Argentina February 28th. 1981.
Sound:
Excellent FM radio broadcast.
Cover:
Color fold-out cover.
Comments:
From the first concert in Argentina. The band did 5 concerts in Argentina, and 2 in Brazil on this spring South American tour 1981. This concert was broadcasted on national television, and on radio. I'm unsure if it was 'live' broadcasted. Might be a day or more afterwards.
There has also be re-broadcasting over the years, on television & radio. Some broadcast has added DJ between the songs.
This recording claimed to be a newly found pre-FM mastertape, hereís the uninterrupted full radio broadcast.
I'm unsure of 'God Save The Queen' on tape was played true the PA system at this concert, or it was just not recorded/ broadcasted live.

There is a handful of bootlegs from this concert released over the years. Various broadcasting sources has been used, as well television broadcasting released on DVD bootlegs.

This 2LP are released in 500 copies with gatefold cover. 250 numbered on Turquoise vinyl, and 250 numbered on white vinyl.


Roots:
Radio broadcast.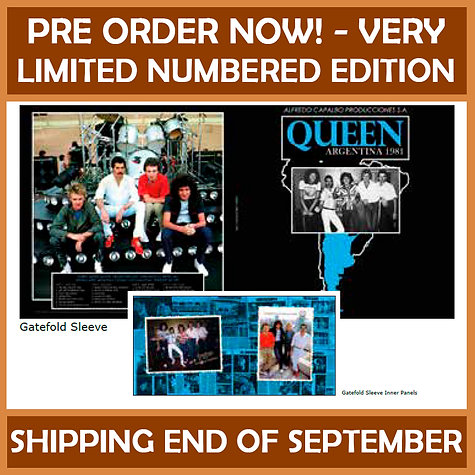 Front cover